Find our "tapa" recipe for 2019. Happy Holidays!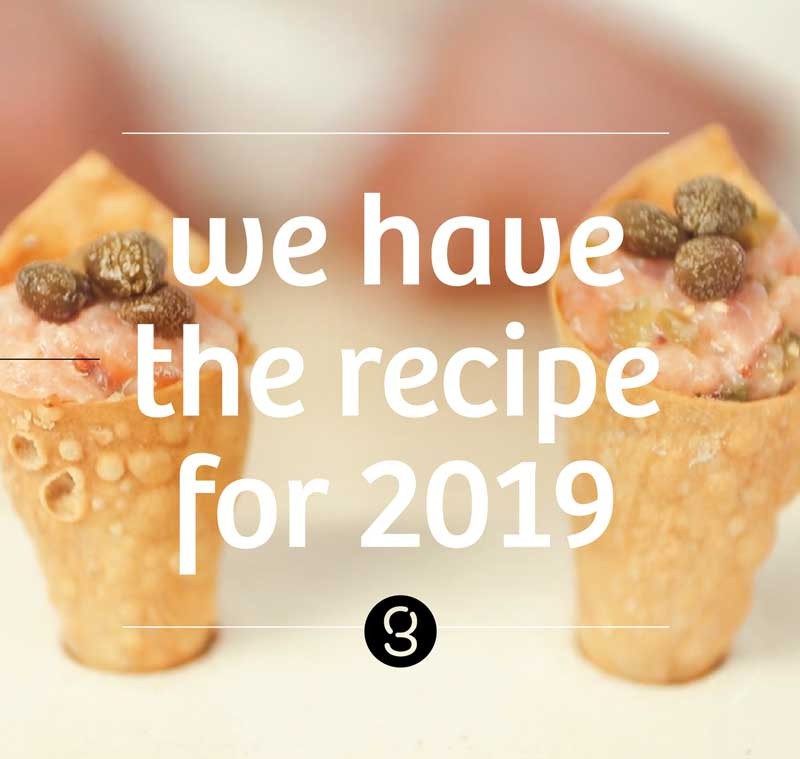 We have the perfect recipe to start the year with a very good taste of mouth. Take Note!
Do not forget to add a good dose of effort and double ration of passion. We put the quality and the innovation!
For mini cones:
non-stick pastry molds.
Wonton Pasta.
Beaten egg.
Cover the cone with the pasta wonton, paste the ends with the egg yolk, baked at 180 degrees 6 minutes. Allow to cool and unmold.
For the Tartar:
800 gr SALMON rainbow trout from Riverfresh.
1 fresh chives.
1 small green pepper.
1 tablespoon of old mustard.
Olive oil.
Salt.
1 lime.
1 tablespoon Végola capers.
1 tablespoon Végola jalapeños.
Clean the rainbow trout (thorns and skin), cut into small pieces of 5 millimeters. Cut the pepper and the chive into small pieces of 5 millimeters. Place the trout on a tray and season it, turn around and add the pepper, the chives, the mustard, the oil, the capers and finally the jalapeños (cut into small pieces and seedless)
Mix everything well, try, rectify the taste of each one and reserve in cold for 2 hours for the flavors to unite.
To finish the dish.
Fill the Miniconos with the tartare previously made, giving it the form of ice cream, finish decorating with capers and jalapeños or any other ingredient in the Végola group's Pickles range.
https://www.youtube.com/watch?v=KGQTRm5-t2k